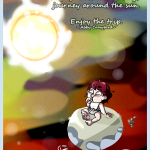 Hoy ha nacido un nuevo retoño en la familia y decidí hacer un dibujo rápido evitando lo más posible las ya muy vistas referencias religiosas, ositos y corazoncitos y otras cosas de colores rosas y azules pastel.
Al final para acompañar el dibujo me decidí por una cita de Abby Crawford , las otras opciones eran Carl Sagan o esta de Doctor Who : 'All of time and space; everywhere and anywhere; every star that ever was. Where do you want to start? '
¿Cuál habríais elegido vosotros?